What are Vape Starter Kits?
Starter kits are full vape set ups designed to suit any individual who would like to start vaping, available at all vape shops. Vape kits usually contain every electronical asset you need, from the mod itself to the atomizer or pod attachment. These kits are usually easy to set up, they're user friendly and are easily defined as "plug and play" devices.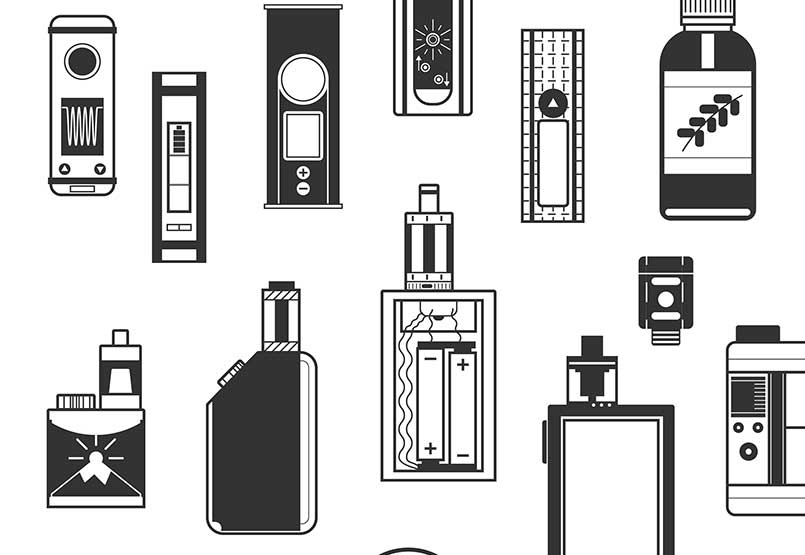 How are Vape Kits meant to be used?
Depending on which type of starter kit you are looking for and the reasoning behind wanting the device, vape shops near you and me should have exactly what you're looking for.
Because there are many different devices out there and it can become confusing to know exactly which starter kit you need. Here's a rough breakdown on the different types and how they're meant to be used:
Pod Starter Kits
Best suited for new ex-smokers these kits are small, convenient and gives you that nicotine your cigarette would have given you all in one. Pod starter kits are perfect for you! They're meant to be used by simply filling the pod attachment with e-liquid, re-attaching the pod to the device and inhaling from the device as you would inhale a cigarette.
The device is rechargeable, making it as easy as it would be to charge your device as it is to charge your cell phone. The most popular starter pod kits are namely: the Renova Zero Kit, Aurora Play Pod Kit, uWell Calliburn, Smok Nord Kit and the Stealth Mini Kit.
Basic "Plug and Play" Starter Kits
For ex-smokers who want to reduce their nicotine intake. These devices do not necessarily focus on the high nicotine release aspect of the device but are still very easy to use, coils must be changed regularly, and the tanks of these devices are refillable.
They come with a built-in battery that is meant to be charged as the battery power runs out. The most popular devices here are namely: the Vaporesso Target, Vaporesso Sky Solo/Plus Kit and the Vaporesso Veco Solo/Plus Kit.
Advanced Starter Kits
For people want to bask in the enjoyment of vaping these devices range in designs, sizes and shapes suited to fulfil your vaping needs. These devices are also rechargeable, some even take external batteries which can come in handy should the battery life deplete over time and of course, you can always have spare batteries that you can have pre-charged when the other batteries die.
These devices also come with refillable tanks and coils that need to be primed and changed regularly once the cotton inside the coil has burnt out. The most popular devices at Vaperite vape shops in this case are namely: the Vaporesso Swag 2 kit and the Vaporesso Luxe-S Vape Kit.
What are the differences in devices?
Pod Vape Kits
Small and easy to use
Built in battery with fast charging capabilities
higher doses of nicotine to be absorbed
Can use freebase nicotine e-liquids and MTL or Nic Salt
Plug and Play Vape Kits
Convenient – easy to use
Large Built in battery
Stronger power output – More Vapour Production
Can use freebase nicotine e-liquids
Advanced Vape Kits
Bigger, more advanced and fun to use
External batteries – not included
Better to Great flavour and cloud production
Can use freebase nicotine e-liquids and MTL or Nic Salt
Where to buy at the best price
Vaperite has a huge variety of starter kits, from pod starter kits to advanced starter kits and everything in between!
With starter kits in all shapes, sizes and designs, Vaperite has you covered. Vaperite's cheapest starter kit range from small pod devices at R300 all the way up to only R1,295.00 for the most advanced full set ups you could ask for.
Batteries cost between R160 – R200 depending on the type you need. Vaperite currently has 17 different vape shops near me and you in PE, East London, Pretoria, Joburg and Cape Town to make accessing these starter kits an absolute breeze!