The skill that can either save you some trouble, or get you into trouble!
Although it has a much better reputation than smoking, vaping still isn't always publicly accepted. Whether it be when vaping in close proximity to others or just when vaping in general public space, it's still frowned upon and prohibited in certain areas that don't always make much sense.
May it be in a moving car, on the beach, or even just the odd time when you'd want to be considerate of the people around you who don't necessarily vape.
By now, we know that social scenarios can be risky if you're not sure about your immediate surroundings – you might just get lashed at when you haven't even thought it to be so serious.
Because of this, many vapers end up not vaping at all, even when they have a strong craving to do so. And so the term 'stealth vaping' was born.
And to our surprise, not many vapers are aware of this discreet style of vaping, which can save you a lot of unnecessary trouble!
What is stealth vaping?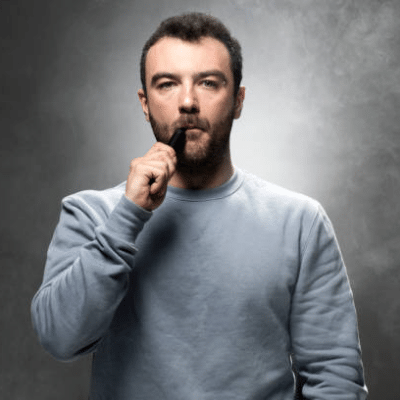 Stealth vaping is the act of vaping in a manner that draws the least attention to the fact that you're vaping, and generally include tactics to reduce the amount of vapour that is exhaled.
People usually stealth vape in places where smoking is not allowed, or where a clandestine style of vaping would be of benefit. (restaurants, cars, public areas, places with bad ventilation)
When is stealth vaping acceptable?
In cases where you just wouldn't want to flood your surroundings with vapor, stealth vaping would be acceptable. In these circumstances, you'd just want to avoid annoying your friends and family with excess vaping, especially those who don't vape themselves.
If we are to strive towards a world where vaping will become a more socially acceptable activity, it's probably best not to give those who don't vape a reason to dislike it.
Zero vaping and stealth vaping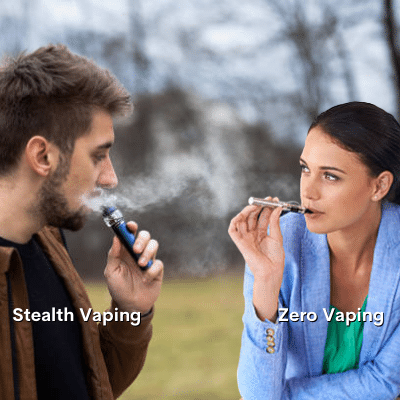 Stealth vaping can include a few tactics to reduce general visibility, zero vaping is one of them.
This is the simple act of producing zero vapour on exhalation. Here are 3 quick tips on how to practise zero vaping:
Use a higher ratio of PG e-liquid.
Take smaller puffs
Do not immediately exhale after inhaling, letting the smoke settler in your lungs will reduce vapour density.
Why vape discreetly?
Even though vaping has become more publicly acceptable than it was a few years ago, there are still some scenarios that prohibit vapers from openly using their devices.
Some examples:
Restaurants – sometimes even smoking areas
Public spaces like beaches & cafés
Cramped spaces (cars, etc.)
Scenarios with non-vapers in close vicinity
In all these scenarios, what you're actually trying to do by stealth vaping is to draw less attention to the fact that you're vaping. To do this, you'll need to cut down on all or most of the vapour normally produced.
Tips and guides on how to stealth vape
There are generally 4 things you can do to reduce how often you vape and how visible it is when you do vape.
Take longer hits, less often
Let the smoke settle in your lungs before exhaling
Repeated inhalation of clean air after exhaling a small part of the vapour
Use a higher PG (propylene glycol) based e-liquid.
Taking longer hits will have you taking puffs less frequently, which in turn will contribute to a more discreet style of vaping.
Letting the vapour settle in your lungs before exhaling (a few seconds will do) will produce little to no vapour upon exhaling. *This is not a safe practice in the long run, so we recommend not making a habit of it.
Taking repeated short inhalations (without vaping, simply air) after you've started to exhale your vapour will also increase the oxygen to vapour ratio in your lungs, resulting in less dense vapour being exhaled.
Best e-juices with fewer clouds
Using e-liquids that consist mostly of PG (propylene glycol) will produce less vapour since it's thinner than VG (vegetable glycerin) based e-juices. PG-based e-liquids provide a stronger throat hit and also carries nicotine and flavour slightly better than VG. Vegetable glycerin based e-liquids are specifically known to create thick, milky clouds.
The level of heat required to produce vapour using PG-liquid is also much less than VG based e-liquid.
Best devices for stealth vaping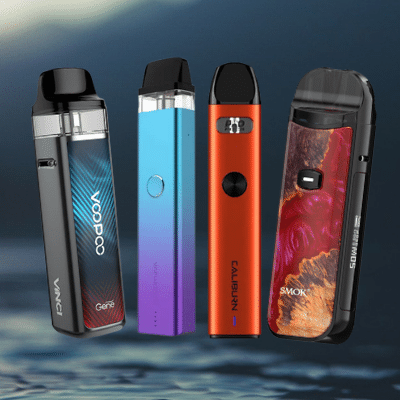 The Voopoo Vinci 2 Pod Kit is modern, stylish-looking, compact and full of handy features to adjust your vaping experience.
It supports auto draw and has an infinite airflow system, so no worrying about button-activated vaping or too much airflow. Simply adjust the airflow to your preference and you're set to go.
Next we have the Vaporesso XROS 2 Kit – with its upgraded water drop air inlet, you can switch from MTL to loose MTL vaping more precisely. Loose MTL vaping would be better for taking bigger hits less often.
The Uwell Caliburn A2 Kit is a slick pod-system device that supports an auto drag feature as well as an inside chipset. Its MTL-oriented vaping style will make it easy to take short, powerful hits without producing too much vapour.
Moving on to the Smok Nord 50W Kit – this powerfully compact design can be adjusted to fit almost any style of vaping. Its large airflow adjustment and digital wattage settings can be combined to create a myriad of different vapor strength levels, or in this case – the levels of vapor produced.
You can also easily switch from MTL to semi-MTL or DTL vaping. So it can potentially feel like vaping entirely different devices when switching from stealth vaping to open draw DTL.
And lastly, we've arguably saved you one of the most stylish and discreet vapes ever produced; the Uwell's Caliburn AK2 Kit. It's a thin, box-shaped pod-system vape that can be worn as a jewelry piece using a lanyard. It's that stylish!
Furthermore, the 8 colour designs you can choose from are all a step up from a regular, 'nonchalant' vape design. In addition, Uwell carries the patent for pro-focus flavour adjusting technology. So you'll experience the most authentic vape flavours available by using a product made by Uwell.
Can you stealth vape with a Caliburn AK2? Absolutely. Its compact design, top-filling system, leakproof and portable design all add up to create the perfect stealth vaping experience. It doesn't even look like a vape!
CONCLUSION
Now that you know of a handy little skill called stealth vaping, you can go about your day without potentially upsetting someone by accident. On the other hand, we're not saying to vape in non-smoking areas, or anywhere it would be publicly irresponsible – you could still get into some serious legal trouble.
DISCLAIMER:
Vaperite does not in any way promote vaping in unsafe or illegal scenarios but rather provides information on how to reduce the amount of negative attention drawn to vaping in public and in general.